Baked Gnocchi Recipe Named "Sorrentina"

If there's one appealing dish outside Italy other than spaghetti and lasagne undoubtedly are baked gnocchi alla sorrentina, a real "ambassador". You can order gnocchi in many Italian restaurants abroad, or easily find some homemade recipe over the internet like mine. If you'll give it a try you won't be disappointed.


My wife Mirella is the real fanatic gnocchi eater at home and she taught me how to make her loved sorrentina version too. The cooking method is quite easy depending most if you want to make fresh gnocchi or get them locally-bought. We do both, really depending on the available time we have, but we prefer them of course homemade.

But if there's something I hate in this recipe are those basil leaves around that I would rather eat raw (like caprese), but instead many Southern Italian families throw it in the sauce and eat cooked.

I ironically say to my wife: "What are all these foliage in my dish?"

She reply ironically too: "Don't mind, healthy stuff...".

Nothing, I just have to move them out of my plate between mouthfuls when we go Naples way, that's it. By the way, when I make baked gnocchi alla sorrentina at home I keep basil leaves out and just use them as a garnish, plus I like to serve with 4 single baking dishes too. Yes, home sweet home.
Homemade Gnocchi are Better!

In the beginning I had to learn how to make fresh gnocchi, well yes, my first attempt was a total mess. But sure, I know that the only way was to simply try and enjoy the time like playing a board game, so time just flies. That's the way to learn Italian cooking. Now I have a good grasp at making gnocchi and it's just a matter of minutes for me. I'm proud of it because Mirella now makes real order for baked gnocchi too, but ops, are we at a restaurant?

Ingredients: serves 4

2 lb (1 kg) homemade potato gnocchi or store-bought
2 cups (500 ml) of fresh tomato sauce or bottled


7 oz (200g) mozzarella cheese, of course buffalo mozzarella is far better

12-16 basil leaves to use as garnish (optional)

a sprinkle of parmigiano reggiano cheese over each dish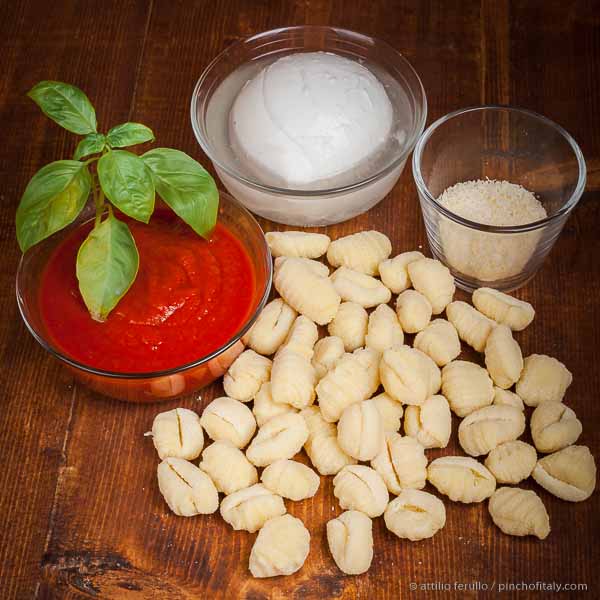 Mozzarella di Bufala (buffalo mozzarella)

A different speech deserves "mozzarella di bufala", you can't miss this type of mozzarella cheese made with buffalo milk, it's a must for baked gnocchi alla sorrentina, I rather don't make them at all. I know we live in Italy and it's far easier for us to buy it. But you, try at least to find some good kind of mozzarella, although it isn't buffalo.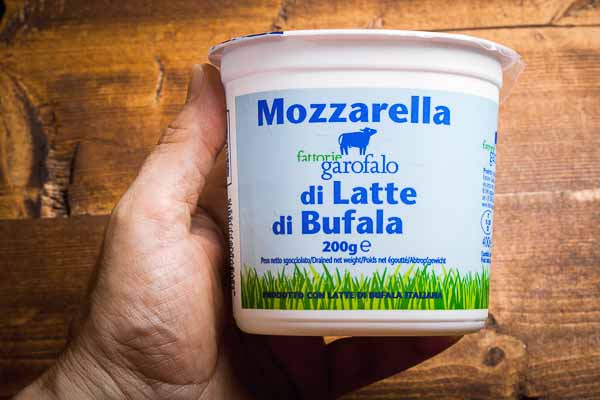 Read-Made Date Tomato Sauce from Mutti

Well, you may not find this type of bottled tomato sauce where you live, sorry for that. For us too was our first time we tried this new ready-made sauce from Mutti, the right moment arrived. These small date tomatoes are different from their brother cherry tomatoes, they have their unique lengthened shape with an unmistakable sweet taste and fleshy texture called in Italian "pomodori datterini". This made superb baked gnocchi alla sorrentina and definitely will make the base for other Italian recipes too. I will keep seasoning pasta with this ready-made sauce when I can't make fresh tomato sauce.

Preparation: about 30 minutes or so

You see, it doesn't take much time, follow my pictures or jump directly to the written baked gnocchi recipe.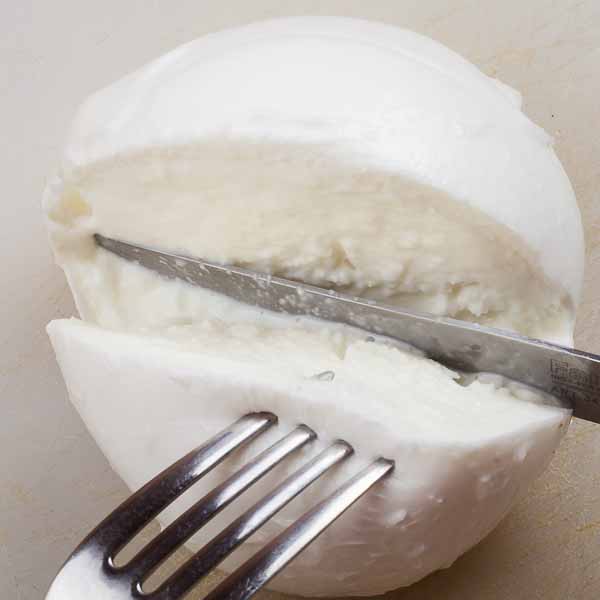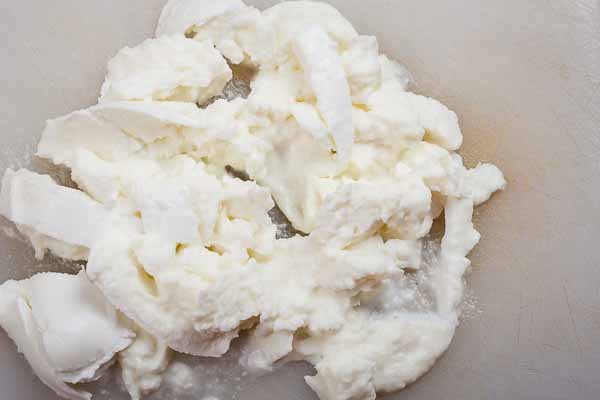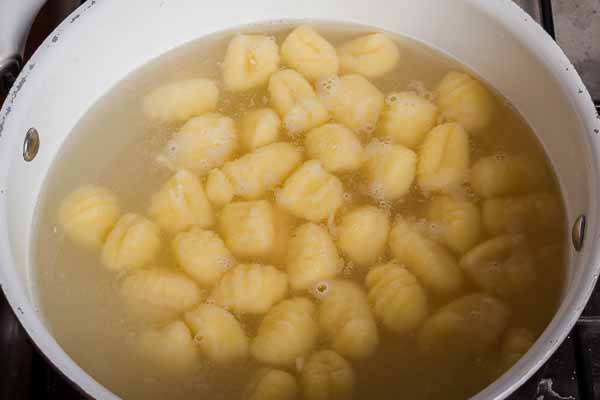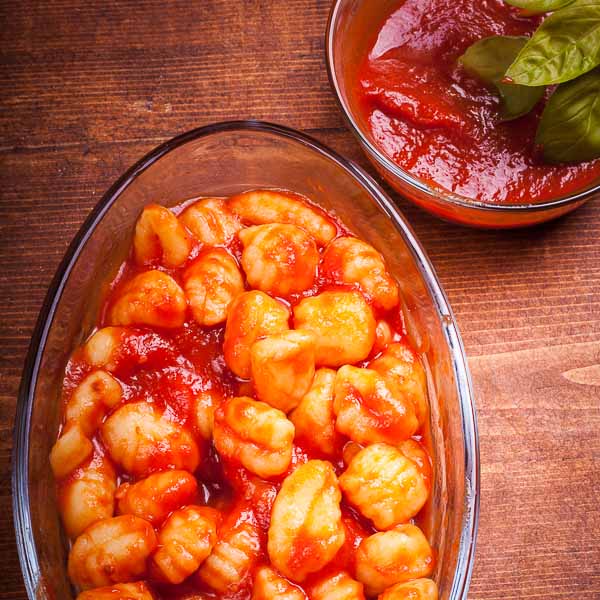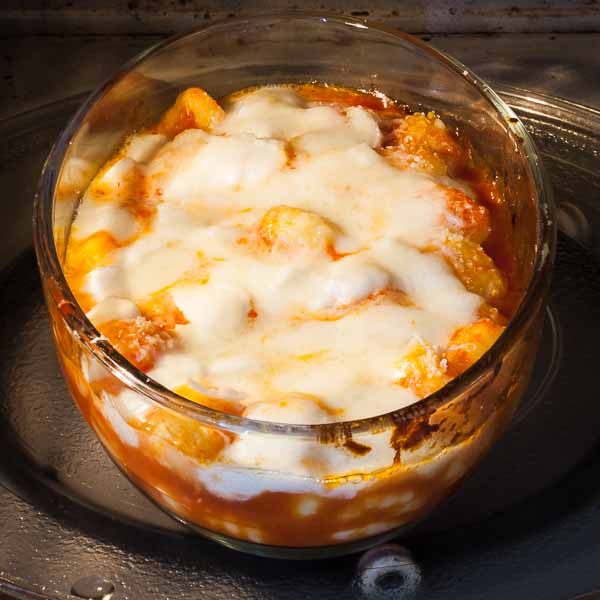 Written Recipe:
Baked Gnocchi Alla Sorrentina
Preparation Time: Cooking Time: Total Time:
Ingredients yield:
4 servings
2 lb (1 kg)

fresh or store-bought gnocchi




2 cups (500 ml)

fresh or bottled tomato sauce




7 oz (200g)

mozzarella cheese, of course buffalo mozzarella is better.




12-16

basil leaves as garnish




parmigiano reggiano cheese



Directions:
Set about ½ gal. (2 lt.) of water in a pasta pot and bring to a boil. Once boiling add a generous pinch of salt and give it a stir. Carefully without burning, a bit at a time throw gnocchi in the pot.

Gnocchi cook rapidly, just a few minutes, so once you see them floating move them to a baking dish to be tossed with tomato sauce.

In the baking dish toss all the gnocchi with tomato sauce and cover with mozzarella and sprinkle of parmigiano reggiano cheese. Gratin at 425°F (220C°) for about 10 minutes until the cheeses are nicely melted.

Serve hot and garnish with two or three fresh basil leaves.