This is the authentic Bolognese pasta sauce, named in Italian ragù alla Bolognese.
It's the dense, rich, meaty sauce, spooned over fresh fettuccine, ravioli, or used to make authentic lasagne alla Bolognese.
Remember? Maybe you have tasted Italian lasagna here in Italy...

FREE DOWNLOAD
My ITALIAN PASTA SAUCE eBOOK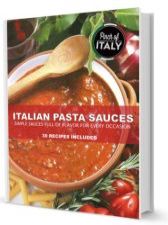 THINK YOU CAN FROZEN THIS BOLOGNESE SAUCE
You may not have thought that this pasta sauce can be frozen too.
As it requires a long cooking time make a batch as I do.
Double the ingredients to make a few extra jars to keep in the fridge for a few days, or froze in plastic containers for a few months as you need.
Make it ready for your next lasagna alla Bolognese.