Easy Vegetable Lasagna Recipe

Easy vegetable lasagna recipe, it's a simple zucchini and eggplant lasagna recipe, incorporated into a nice tomato sauce. The vegetables are roasted in this version, and yes it's a quick and easy recipe.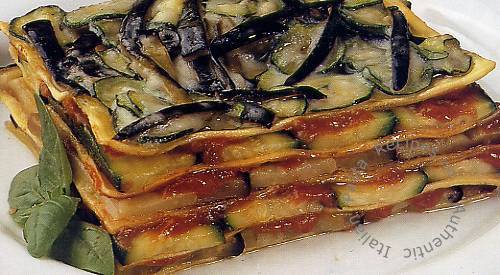 Ingredients: serves 6 to 8
15 dried eggless (or no-boil) lasagna noodles
1 pound (gr.454) zucchini (about 3 medium), sliced
1 pound (gr.454) eggplant (about 3 medium), sliced
5 tablespoons (ml.75) extra-virgin olive oil
6 medium garlic cloves, minced
28 oz. (gr.790) can crushed tomatoes
2 tablespoons (gr.28) chopped fresh basil
salt and ground black pepper
Preparation: easy 45 minutes
Adjust oven racks to middle position and heat your oven to 400°F (200°C). Start tossing the zucchini and eggplant with 3 tablespoons (ml.45) extra-virgin olive oil, 4 minced garlic cloves, and salt and pepper to taste into a dish. Spread out the vegetables in a greased casserole, grill turning occasionally until golden brown. Set all the vegetables aside.
Separately heat the remaining 2 tablespoons (ml.30) olive oil and 2 minced garlic cloves in a skillet over medium heat until fragrant but not brown. Stir in the tomatoes, simmer until thickened slightly (about 10 minutes). Add basil, salt and pepper to taste.
Spread ½ cup (ml.118) of sauce that you have prepared over the bottom of a greased lasagna pan. Lay 3 noodles crosswise over the sauce. Then lay about 6 oz. (gr.170) of eggplant over the noodles, and ½ cup (ml.118) of tomato sauce over the eggplant. Then start the second layer, but this time instead of eggplant use the zucchini.
Repeat the layering of the lasagna noodles, vegetables and sauce 2 more times. For the fifth and final layer, lay 3 noodles crosswise over the previous layer of zucchini.
Top the final layer of lasagna noodles with the remaining eggplant and 1 cup (ml.237) of tomato sauce.
Cover the pan with a sheet of aluminum foil and bake for about 25 minutes. Then remove the foil and continue baking another 15 minutes. Remove the pan from the oven and let your vegetable lasagna recipe rest 5 minutes.
NOTE
The lasagna can be wrapped with plastic and refrigerated overnight, or wrapped with aluminum foil and frozen for up to 1 month.
RELATED RECIPES & STORIES...