This roasted chicken is very tender and flavorful, thanks to mom's trick in which she puts a cooking pot full of water on the bottom of the oven, and all without adding a drop of olive oil.
Doesn't it sound fantastic?
This Italian recipe with potatoes and mushrooms seems to me perfect, and if you are going to make it you'll enjoy Italian taste.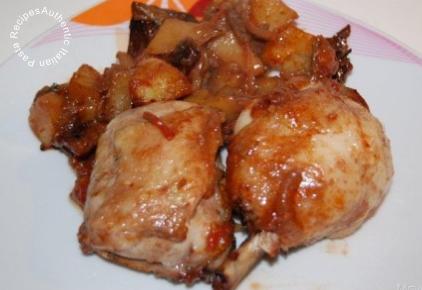 Ingredients: serves 4

2 lb (1 kg) chicken thighs
2 potatoes
1/2 onion
2 oz (60g) dried porcini mushrooms
11 oz (300g) tomato sauce
basil
chili
salt
1/2 cup (120ml) red wine
Preparation + Cooking Time: 1h 20min

1. Soak the dreid mushrooms in warm water for about 20 minutes.

2. Meanwhile, peel potatoes and cut into chunks and place in a bowl along with sliced onion, basil and chilli.
3. Rinse and squeeze the mushrooms and add to the bowl along with chopped tomatoes and salt.

4. Mix together then pour into a nonstick baking dish.
5. Now lay down the pieces of chicken.
6. Bake the chicken with potatoes and mushrooms at 400F° (200C°), then on the last rack of the oven put a pan with water and cook for about 1 hour.

8. Remove from the oven.
9. Ready to be plated and served.