Every region of Italy has its own recipe for beef braciole, but above all is in how many ways such recipe is called and in south Italy, especially in Naples, the custom of renaming dishes is very common...
DOWNLOAD
30 Italian Pasta Sauces - eBook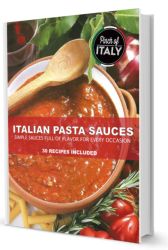 Naples' sunday lunch is often made with a classic meat sauce.
But when the sauce can't be made because it requires the use of many different parts of meat.
It's then made just by adding a few slices of rolled beef named braciole, into a  tomato sauce and served as a second dish.
Well I think it's worth the time, because these braciole become very soft and tender that they will melt in your mouth...