A traditional, spicy hot Mediterranean recipe, though there's a funny dispute between Naples and Rome for the origin of this dish, but I don't mind form where it comes from.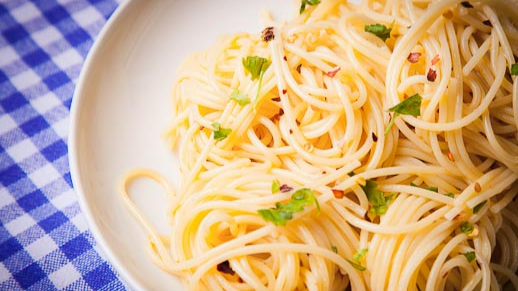 This recipe is so simple and easy to make that you can prepare it even when you are in a rush, informal and uncomplicated but not tasteless. Good for vegetarians and if you are a hot spicy food lover this dish will completely satisfy you.
Ingredients: serves 4

1 lb (454g) spaghetti
2 big garlic cloves
3/4 cup (1/4 pt) (180ml) extra vergin olive oil
1 or 2 up to your taste, dried hot red chili or flakes
1/2 cup (113g) fresh parsley (optional)
2 tbsp (30g) sea salt
TIP!  The smaller dried chilies are generally stronger than the large ones. Usally no parmesan cheese is served with this recipe.
Preparation: easy 20 minutes

1. I set the water to boil in a pasta pot and by side the frying pan is ready.

2. Only when the water is boiling I add about 2 tablespoons of sea salt, drop spaghetti in and give a stir. It will take roughly 10-12 minutes to cook spaghetti al dente.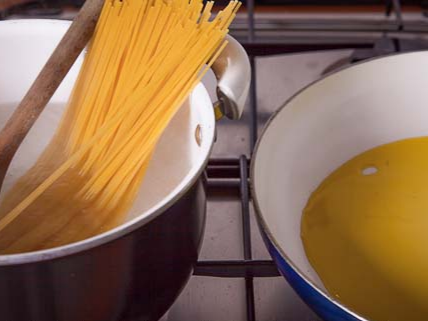 3. While spaghetti are cooking I start to heat the olive oil in a large pan (I use a non-stick one). I then slice the 2 garlic cloves in quarters, add  the chili flakes (or a chili broken in 2 or 3 small pieces).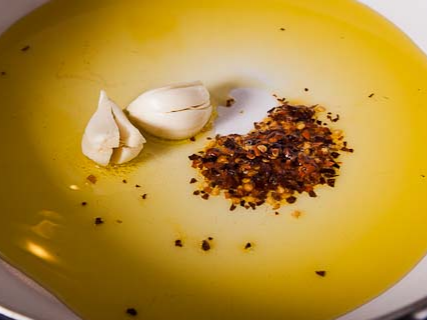 4. After frying at low heat the garlic gets softer and I crush it with the wooden spoon against the pan. I keep frying until the garlic begins to turn golden it's only then that I remove the garlic from the pan.

5. In the meantime spaghetti are ready and it's time to drain them warm, smokey and already nice!

6. Just after draining I pour them back into the frying pan (remeber to remove the garlic if you haven't yet).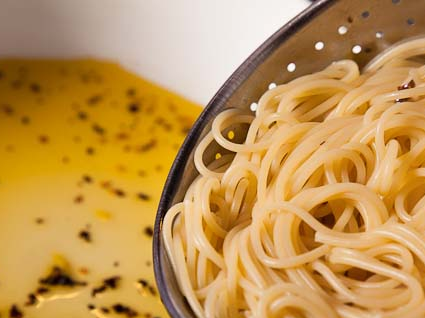 7. It's time to give the "boom" spiciness taste to the recipe so I start mixing and cooking for another couple of minutes not more.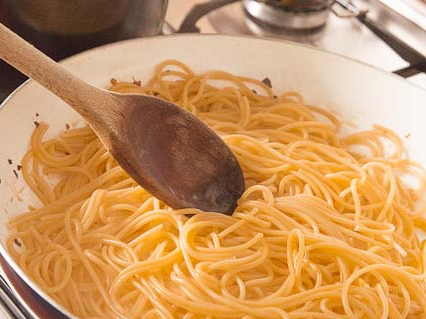 8. Spaghetti aglio e olio are ready to be plated and served but before I break up by hand the parsley into small pieces so I give the plate a fresh taste and garnish.
If you like I add a little more of chili falkes before serving because I love it strong but that is just my taste. As you seen this is indeed an easy Italian spaghetti recipe which I often make!