Authentic Spaghetti alla Carbonara

This is indeed what I really consider an authentic spaghetti alla carbonara recipe from Rome. I visited Rome a few times in my life and since then I always enjoyed eating their pasta or better spaghetti alla carbonara.
Walking through the streets of Rome visiting famous places for tourism is what I like to do most.
Now what happens visiting Rome is that it won't take much to "stumble" into a trattoria (a typical Italian restaurant usually owned by a family), which I don't consider to be part of my touring schedule and worse this turns to be a trouble I always fall in.
My stomach tears instead of my eyes, my mouth waters leaving my body without "liquids" and I know that we can't survive without liquids. What a bad situation fighting against spaghetti alla carbonara or spaghetti all'amatriciana, they both pull my stomach in.
Unfortunately for me the lady who was owner of my favorite trattoria has retired, and I'm only left with the recipe. Since then I make it often and you too can make it with my easy guided steps.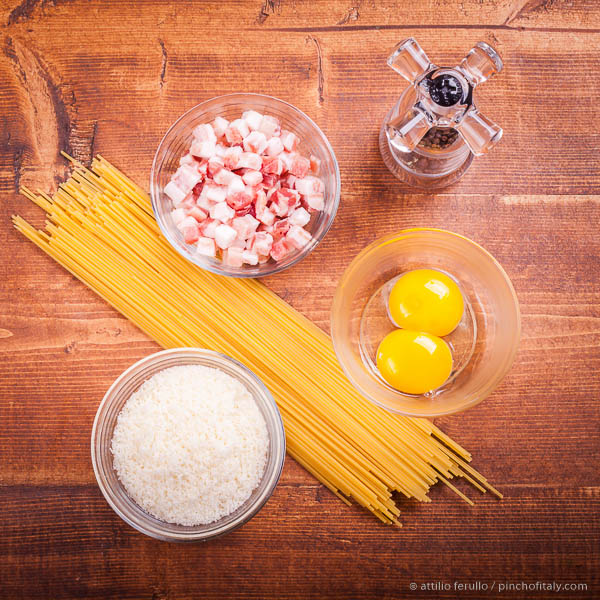 Ingredients: yield 2

½ lb (200g) spaghetti or

other

pasta shape

3 ½ oz (100g) Italian pancetta or diced smoked bacon

2 eggs (1 yolk + 1 whole)

3 oz (85g) grated pecorino romano cheese or parmigiano reggiano cheese

salt & freshly milled black pepper
Now there's a reason I did it for two, that's for me and my wife but you can scale up and double the ingredients if you need 4 servings and anyway an egg for person.
In a bowl add the 2 eggs (1 yolk + 1 whole), at this stage if your are making this recipe for 4 or 5 servings you can add 4 eggs (2 yolks + 2 whole) so that you'll have enough egg's white.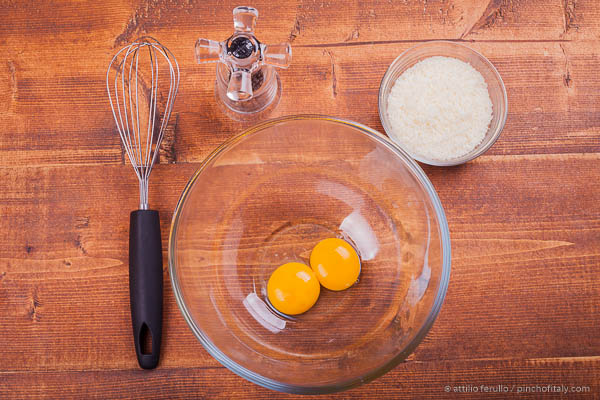 Beat the 2 eggs with a whisk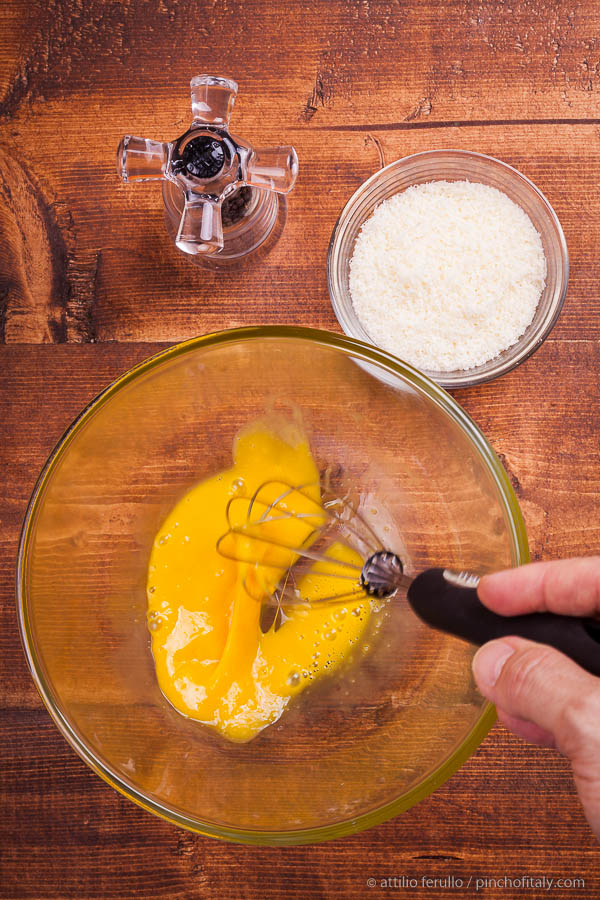 Add the pecorino and/or parmigiano reggiano to your choice and mix the whole.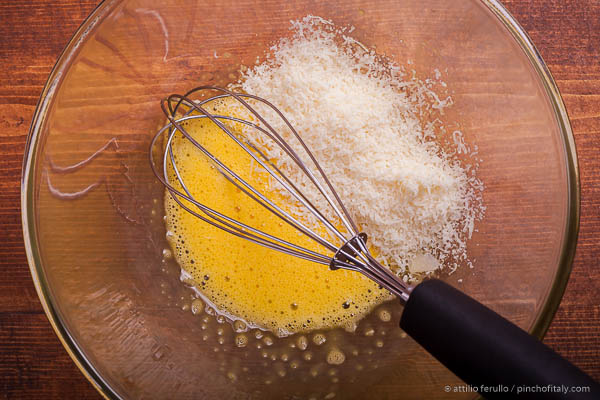 Add fresh milled pepper to taste.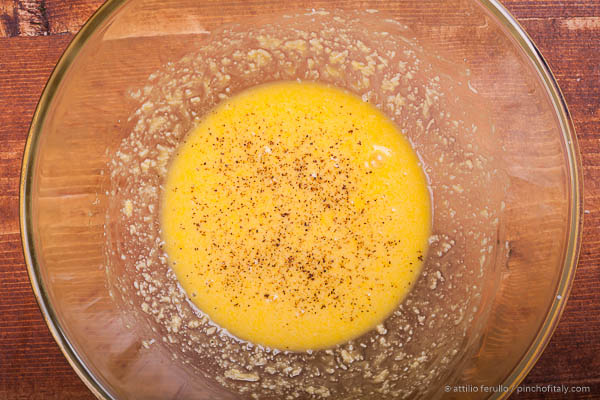 Take a frying pan, add the diced bacon or Italian pancetta and this can be done while the pasta is cooking.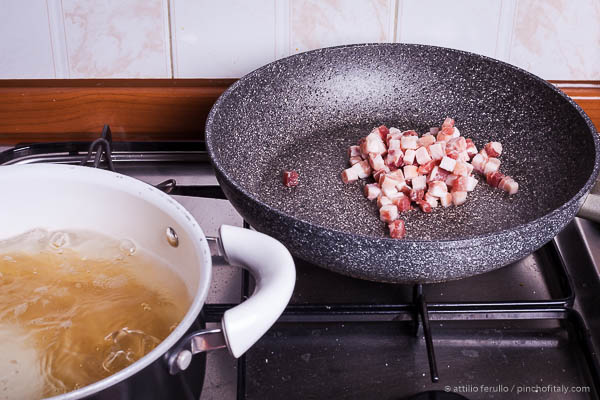 Cook for a couple of minutes stirring often the bacon with a wooden spatula until the fat has become transparent and slightly crisp.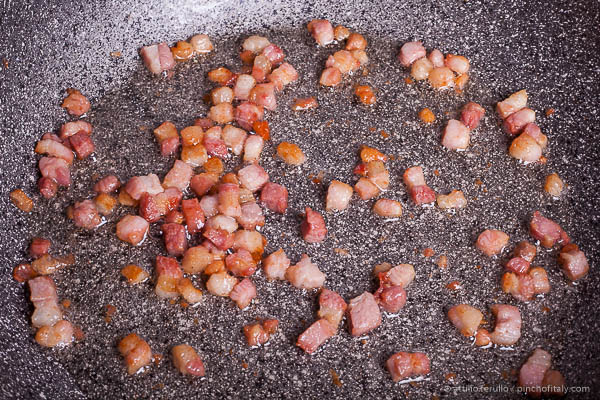 Once ready throw the spaghetti in while they are still warm.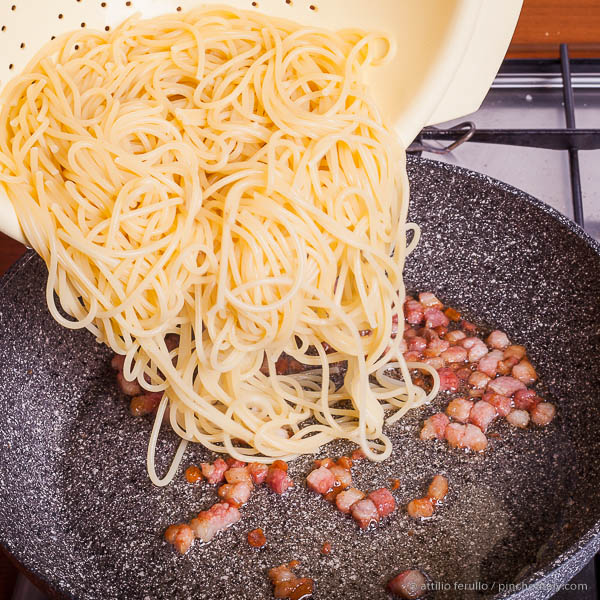 Take the mixture of beaten eggs and cheese then pour over the spaghetti.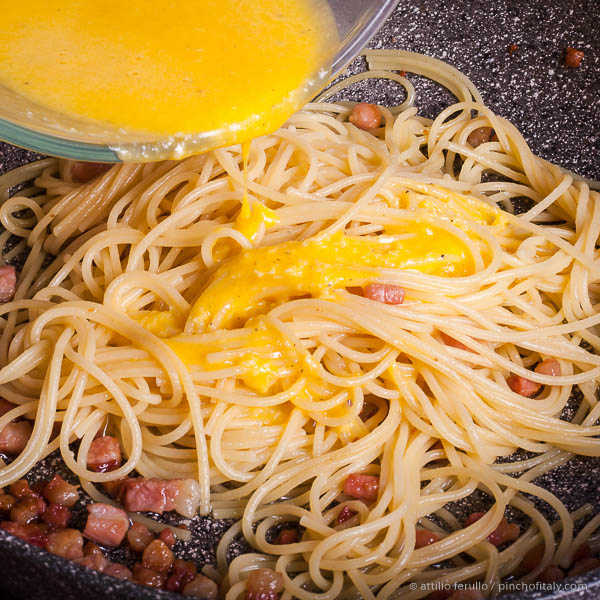 With a wooden fork twirl and turn the pasta until all is well mixed before making the portions.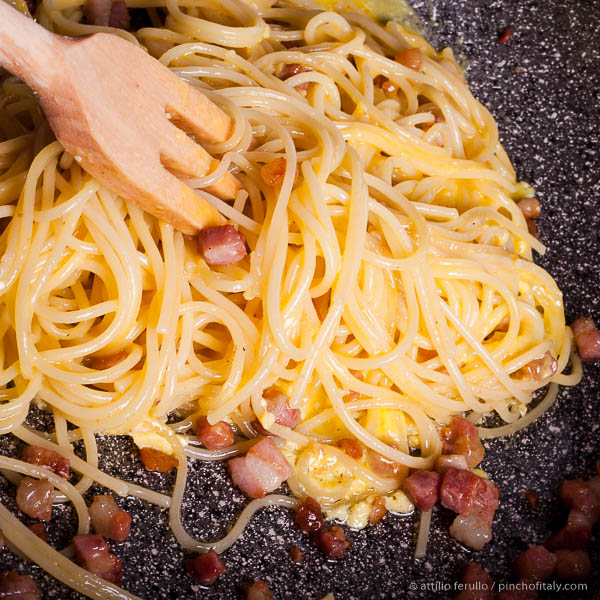 Spaghetti alla Carbonara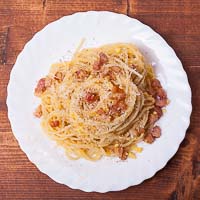 Preparation Time: Cooking Time: Total Time:
Yield:
2
Ingredients:
½ lb. (200g)

spaghetti or rigatoni pasta




3 ½ oz. (100g)

Italian pancetta or smoked diced bacon




2

eggs (1 yolk + 1 whole)




3 oz. (85g)

grated pecorino romano cheese or parmigiano reggiano cheese




salt & freshly milled black pepper



Directions:
With a whisk start beating the eggs in a bowl.

Once done in the same bowl add the pecorino cheese too and mix whole with fresh milled pepper.

While the pasta cooks take a frying pan for the diced bacon and start to fry until brown and crisp.

Once the pasta is cooked drain it and throw it in the frying pan with the bacon and mix with a wooden fork before serving.

Serve hot with extra milled black pepper and grated parmigiano cheese.

Note:
The original recipe does not use cream, so leaving spaghetti lighter and less caloric, but willingly is a variation to try. Another variation to try is to use half dose of pecorino romano cheese and half dose of grated parmigiano reggiano. The authentic carbonara just calls for pecorino romano which is better for this recipe. If you like or don't have pecorino cheese you can use instead parmigiano reggiano but will taste less strong.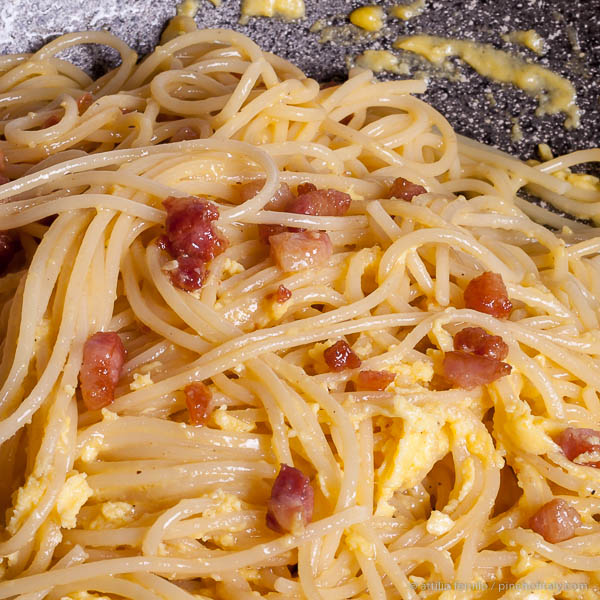 Serve immediately, adding fresh milled pepper, and sprinkle some extra grated cheese to your taste.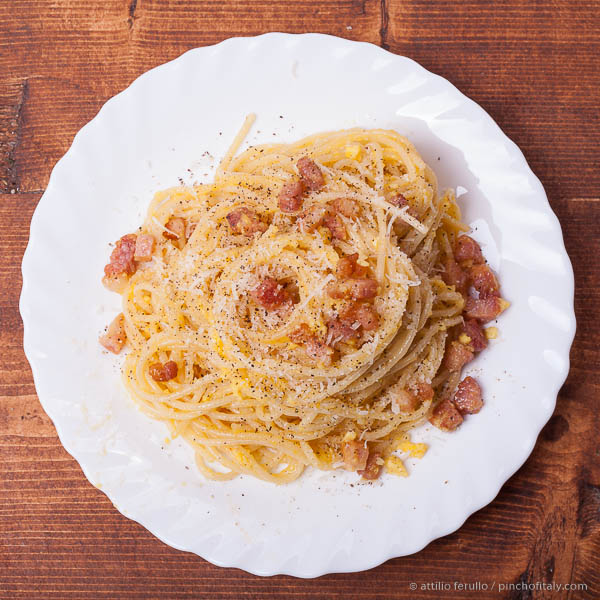 Yes, spaghetti or another kind of pasta shape makes carbonara a simple recipe and yet very tasty. Other easy spaghetti recipes I like to make that you can try are spaghetti alla puttanesca with olives and anchovies and spaghetti all'amatriciana.