AUTHENTIC ITALIAN RECIPES

With Pinch of Italy you can discover authentic Italian recipes straight from Italy to cook like an Italian. Not here yet? Drop me an email and let me know what would you like more of...
NEW & UPDATED PAGES

Check out new and updated Italian recipes from PinchofItaly's blog.

Nov 11, 15 10:00 AM

Easy Italian chicken pasta recipe, farfalle (butterflies) with prosciutto cotto (cooked ham), peas and tomato puree...

Nov 09, 15 10:00 AM

This Italian cannelloni recipe with ricotta and spinach, is a typical filled baked pasta from Italian home cooking...
MUST TRY AUTHENTIC ITALIAN RECIPES

These are the kind of recipes you can't hop, skip and jump over, and go to the next one. These are some of the standing colums of Italian cooking. With many other Italian recipes they make the classic Italian cooking repertoire...

POLENTA & GORGONZOLA CHEESE LASAGNA

Lasagna made with polenta and gorgonzola cheese is one of the many ways that Italian corn flour can be made. It isn't precise and like any traditional Italian recipe it varies from family to family. In general, we can say that the layers of polenta should alternate those of gorgonzola cheese, it's almost like layering a lasagna hence called in Italian "lasagna di polenta"...
SPAGHETTI ALLA PUTTANESCA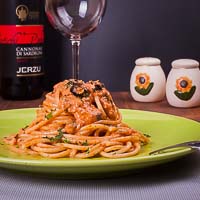 Spaghetti alla puttanesca sounds in Italian something like this: "spaghetti the whore's way", though idioms usually cannot be translated literally into another language. This is simply an historical Italian dish surrounded by a few muffled legends from which the most reliable one says that the name was originated in Naples from such "night ladies" around 1950s...
ITALIAN BEEF BRACIOLE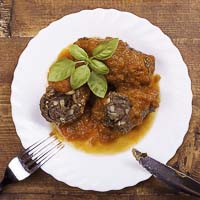 Every region of Italy has its own recipe for beef braciole, but above all is in how many ways such recipe is called and in south Italy especially in Naples, the custom of renaming dishes is very common. Naples' sunday lunch is often made with a classic meat sauce, but when the sauce can't be done because it requires the use of all different parts of meat...
SPAGHETTI ALLA CARBONARA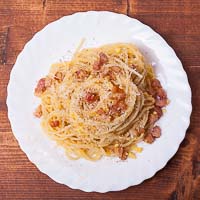 If you been in Roma you'll definitively remind this one. This is indeed what I really consider an authentic spaghetti alla carbonara recipe from Rome. I visited Rome a few times in my life and since then I always enjoyed eating their pasta or spaghetti alla carbonara. Walking through the streets of Rome visiting famous places for tourism is what I like to do most...
ITALIAN PASTA e FAGIOLI (pasta & fazool)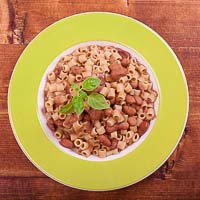 Italian pasta e fagioli recipe or as it's called in south Italy "pasta e fazool" (pasta and beans soup). This recipe is one of the most traditional being widespread and popular in many areas of Italy, but there are several variations. Because of this popularity I can't say with certainty which is the homeland of pasta and beans...

HOW TO MAKE FRESH PASTA

If you want to make some fresh pasta give a look over here. I've tried with whole wheat flour and turned out a well pasta dough.