Happy bruschetta memories

May it be the smell, just the colors, or may it be the taste. Simple and easy I couldn't resist longer and I made this tomato bruschetta for my happy memories.
Now if you have been in Italy maybe you might had ordered some kind of bruschetta at an Italian restaurant. Most served as an appetizer, but sometimes served as a snack as well.
Well, it was summer in Certaldo (near my home), that I went out for an evening meal with my wife. At the restaurant L' Antica Fonte (the ancient spring), a few guys close to us with the classic "tourists-look", ordered a tomato bruschetta.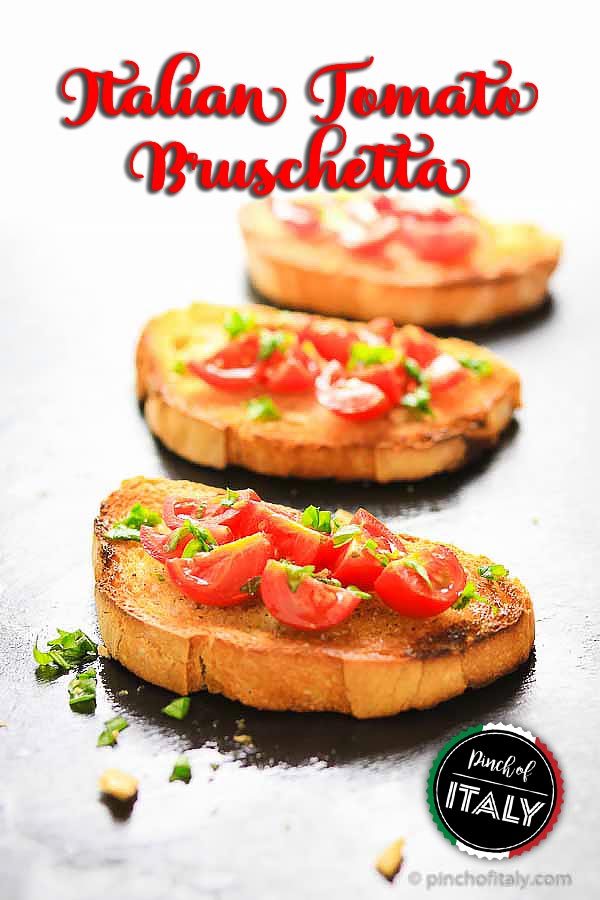 It may happened by chance, but they ordered the same thing that we were already eating. Although L' Antica Fonte has a long list of Tuscan Dishes their choice was a simple slice of bread topped with tomatoes like ours.
For me, it was a pleasure to see that they indeed had appreciated. I could well understand through their nods of approval and their repeated nice comments. I'm always curious to know what a tourist likes to eat in Italy and maybe other than lasagna alla bolognese, spaghetti alla carbonara or pizza.

If you have happy memories from a vacation in Italy and have tried an Italian bruschetta maybe writing postcards for your beloveds. Well, now I know I can satisfy yours and mine appetite filled with happy memories.